Happy Holidays everyone!  Just a brief article this month, as my original idea got squashed by Mother Nature.  I live in Los Angeles, but went back to my hometown of Erie, PA for Christmas.  One of my plans while I was home was that I was going to see Star Wars: The Last Jedi with my Mom.  In turn, I was going to write an article called "Me and my Mom review Star Wars: The Last Jedi."  After a few initial attempts at seeing it fell through, we had settled on seeing it the day after Christmas.  Being one of the busiest movie-going days of the year, I bought tickets in advance.  Then this happened: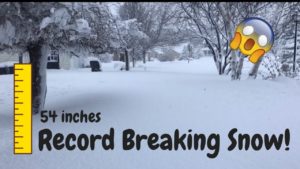 SO!  MUCH!!  SNOW!!!  The wampa from Empire Strikes Back was going to visit Erie but ended up saying "That is WAY too much snow, and I live on an ICE PLANET!"  Mom and I most likely weren't going to attempt to venture out to the theater anyway, but we didn't have to worry about it as the theater ended up closing altogether for the day (makes sense, a state of freaking emergency was declared after all).  My flight was the next day, so not only did I not get to see Last Jedi with my Mom, I still have yet to see it period (though a future version of me has seen it).  Enter this guy…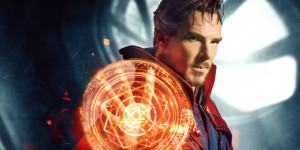 Somehow Mom, who sees ALL the movies, never ended up seeing Doctor Strange (and luckily she doesn't remember me spoiling the ending for her when I told her about it under the assumption she had seen it), so our plan B was that we'd watch that on Netflix, mainly so she'd know who that magic guy with the red cape in Thor: Ragnarok was.  The main highlight from the screening was that Mom fell asleep four times while watching the movie (in her defense, we  started watching it around 10 or 11 PM).  The first three times I woke her up, but the last time I said "Do you want to take a little nap before we finish?" and she said yeah, so she slept in her chair for about an hour while I read comics.  When we finished the movie, she said it was good but a little confusing.  I pointed out that falling asleep a few times probably didn't help; she concurred, though also indicating that (slight spoiler alert) anything involving a time loop tends to confuse her.  So for those of you scoring at home, I'm glad to report my Mom is up to date on all the Marvel movies!  Until next time –
"Wait, Steve, didn't you say you were going to do an article on Justice League?"
Well thank you very much for reading my last article!  (And if you haven't read it yet, click the link above.)  To answer your question, in lieu of an article, I was part of a podcast about it with a great group of friends, check it out here.  Have a spectacular 2018 and I'll catch you later!